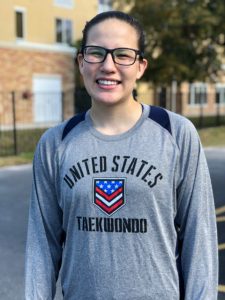 Ara White is preparing for another busy competition year. She will be attending at least six international competitions this year and two international training camps. The anticipated cost for these events exceeds $12,000, so your support is greatly appreciated.
Donate now to receive one of our new United States Taekwondo shirts. These shirts are great quality — gray/navy blue dri-fit material with screen printing by Shane Merem. We will deliver locally and ship out-of-state orders.
Please consider becoming part of our team by filling out the form below. Any person who gives $35 or more will receive one of these new shirts, depicted on Ara, left.
Thank you for your gift! Just hit "Donate" on the form below to give $35 and receive a t-shirt, or enter any higher amount in the text box. The form will bring you to PayPal, where you can click "Pay with Credit/Debit card."