US BEST TAEKWONDO AFTER SCHOOL PROGRAM
We will pick up your child from school upon dismissal. We provide a Fun, Active,Educational after school program including Taekwondo Class, Snack Time, Home Work Time, Movies and have a Large Fenced Outside Play Area. We pick up grades K- 5 and Middle, Monday – Friday with parents picking up children by 6pm. After School Program includes care on Early Release Days and Off Days.
The program offers training to develop skills and experience in  Traditional as well as Sport Taekwondo, Self Defense, Respect & Discipline, Character Development, Confidence & Physical Fitness. Giving the opportunity for children to become champions in sport and in life!
How Do I Get Started?
Click here to fill out the online registration form and pay $50 registration fee. It's that simple. School begins August 12, and so does our after school program for Fall of 2020. After registration, ongoing cost is $90/week, due at the dojang.
We will provide a free uniform for all new students, coordinate pick-up with your child's school, and provide a safe and fun environment for your child to prosper.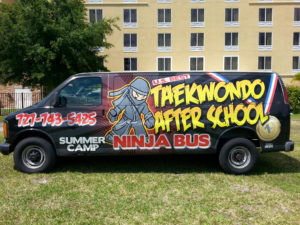 FREE Pick-Up From All Local Elementary Schools in Largo, Clearwater and Surrounding Areas:
Belcher
Belleair
Curtis Fundamental
Frontier
Fuguitt
Largo Middle
Mildred Helms
Osceola Middle
Pinellas Prepratory Academy
Plato Academy
Plumb
Ponce De Leon
Ridgecrest
Southern Oak
Walsingham
Don't See Your School Listed? Please Give Us a Call 727-743-5425